Wax Carving Pencil
A precise and practical tool, indispensable to professionals who work with precision and strong attention to detail. Mak4 acts as a chisel expertly guided, modeling any kind of wax to the smallest detail, setting the best temperature for each kind of wax and giving it perfect shape and thickness. Easy to use, versatile, reliable in all conditions: it always guarantees good results. No flame, no gas, no fumes. Only your work and the safety that you ask.
Thanks to the absence of open flames, there are no danger of gas or fire escapes. The temperature setting system, via a microprocessor with thermocouple sensor, keeps it constant during all stages of processing, choosing the most suitable for every type of wax.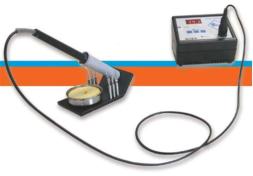 The absence of flame drastically reduces the production of wax fumes. The wax is carved at melting temperature. The power regulator ensures optimal functionality for both small detailed and extensive works and prevents the moulding material from cooling down. The tips are easily interchangeable and can be instantly heated so you can continue your work with no interruption. The luminous display allows you to monitor the functional status of the carver giving you the proper functioning in real time.
The contents and the specifications of this product are subject to change without notice.