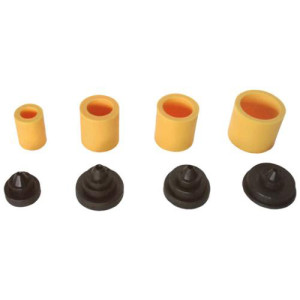 This line was generated in collaboration with some dental laboratories making possible the development of a higher performance product in comparison to similar products on the market. The containment conical casting rings are entirely made of silicone, a highly resistant material.
The internal structure of the cylinders has thin grooves that are distributed on the investment in order to permit a better absorption of the temperature inside the furnace, thus greatly reducing the formation of small cracks. The former bases for free expansion are designed to be used with our silicone rings; in fact, they have power cones specifically designed to be used at Ariete's casting machines.
Casting rings and sprue former bases for free expansion flank the wide range of ARIETE's products designed to always achieve the best results.
The contents and the specifications of this product are subject to change without notice.