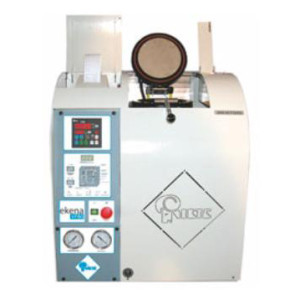 Ariete's casting machines are the result of careful research aimed at solving problems related to high-precision casting dental technology. From the initial design, Ariete team has pursued the goal of creating a device able to simplify and harmonize the casting process, in order to improve the quality of the products, allowing the technician to operate with greater confidence in the realization of high-precision dental prostheses. By the satisfaction expressed by dental technicians who have used and use our casting machines we can say, without a shadow of doubt, that the objectives have been largely achieved and exceeded, with the full satisfaction of both our designers and users.
For the realization of its equipment, Ariete, as usual, took advantage of the experience and the technical and scientific support of some dental laboratories of European fame, with which collaborates for several years.
Specifications for dental laboratories
These Ariete's new generation of casting machines are able to meet the expectations of all dental laboratories, even the most demanding, as they are based on proven off-patent technology that gives unicity to the Casting Machines Ekena XP 80 / Ergopress Super.
Technical features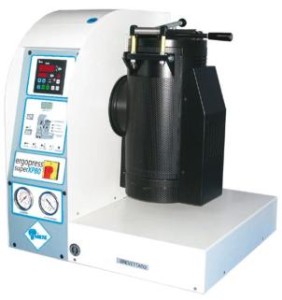 – Argon Gas Circuit (Standard), for castings with inert gas. It eliminates any oxidation on gold, non-precious and titanium alloys.
– The new XP-80 series of casting machines is equipped with a more capacious casting chamber, which allows the use of cylinders of various diameters from 1x to 9x and with variable height from 50 to 80 mm. This allows you to make fusions with cylinders for partial dentures, especially large and of most different shapes.
– Patented Triple cooling system: Its forced-air allows to easily work in continuous casting.
– High Security Electronic circuits which guarantee a minimum of maintenance and a high reliability in time.
– Reduced energy consumption, thanks to the reduced heat loss of the infrared heater.
– Total control of the casting process: It is possible to check visually the casting fluidity whether the alloys are precious, semi-precious or non-nobles, with no risks for the operator.
– 10 programs: it is possible to program temperatures and speeds of heating for different alloys.
– 1 superimposable program to each of the 10 for any changes during the cycle in function.- 1 program for verification and thermal calibration of the casting machine.
– Temperature monitoring with maximum fluctuations of +/- 1C°
– High Quality Standard for any type of alloy from gold to base, semi-base as well as alloys containing titanium, thanks to the new-patented injection die-casting vacuum system.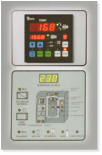 – Now easier than ever before. In every operating phase, the device constantly supports the technician so it is possible to achieve a high accuracy and avoid errors.
– Automatic vacuum production.
– Automatic compressed air injection (hot air to avoid thermal shock).
– Rapid heating with infrared radiation, emitted by a special resistance thermometer (totally absorbed by the original Ariete ceramic crucible) with a programmable speed from 60 up to 200 ° C / min.
– Elimination of vent channels, with consequent time saving on the model building.
– Optimized use of alloying elements, as the pneumatic injection makes it possible to obtain excellent castings using from 30 to 40% less alloy compared to those performed with the centrifugal system.
– Ariete's innovative crucibles and certified products, specifically studied for the various types of alloys, completely free of contaminating materials, resistant to high temperatures and multiple casting cycles.
– Distinctive molecular compactness fusion thanks to the special and unique vacuum-pressure loading circuit that allows obtaining very good castings even with a low specific weight alloys (non-noble alloys).
– The highest level of electrical safety: all the internal circuits are low voltage 24 V.
– It is possible to easily upgrade technical elements and software to a casting machine of the latest generation.
Inert gas fusion circuit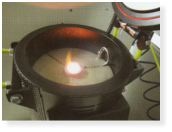 All Ariete casting machines features standard circuit series for the inert gas fusion.
Printer
By request, Ekena XP 80 / Ergopress casting machines can be equipped with a printer to have a complete and detailed casting process report. Ariete casting machines are the only ones that, through the on-board computer, test and indicate with a detailed report:
– any anomalies detected at starting;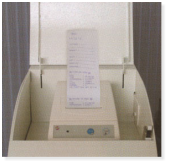 – Occurred events at the fusion cycle. If an event blocks the running program, the report will describe it at the calibration phase, specifying the error causes. In fact, the printer is able to give details about all the calibration cycle as well as any adjustments made automatically by the on-board computer.
The contents and the specifications of this product are subject to change without notice.