Processing supplies
1 – Plastic cups for partial dentures
2 – Special Crucibles
Allucast (for gold-ceramic)
Steelcast (for cobalt-chrome)
Portagrafite – graphite (for gold-resin)
3 – Spirals for air, vacuum and gas
4 – Stainless steel casting rings 
measures: 1x, 3x, 6x, 7x, 9x
5 – Fluidifying Tablets
6 – Light pen
7 – Dark glasses
8 – Model and casting ring tongs/forceps
9 – Rubber Sprue Bases
measures: 1x and 3x, 6x, 7x, 9x
10 – Cylinder reductions 1x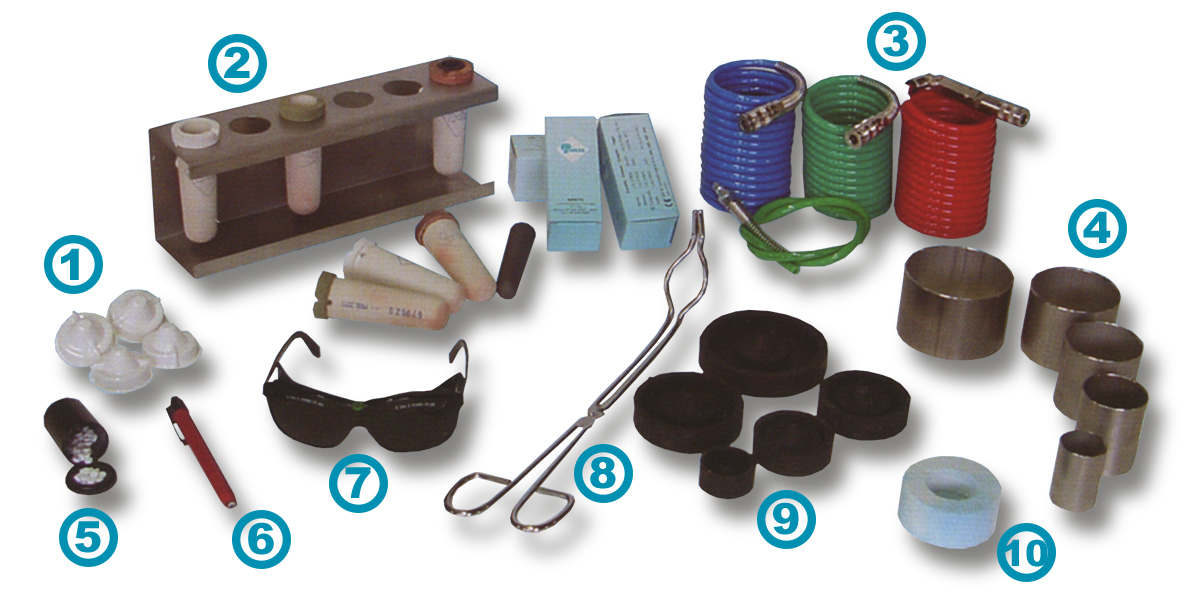 Equipment supplies
A – Vacuum pump
CE certified – 6 cubic meters
B – Electronic printer
Certifies the casting process
C – Casting Furnaces single cabinets
D – Kronvest
The investment extruder for casting rings solves a longstanding problem: to preserve as long as possible casting rings and extract investments from them without damaging the casting inside them.
Thanks to the threaded manual press patented system, Ariete's Kronvest locks firmly the ring (even if worn-out) so that it does not slip away in any direction. The vertical punch rack extrudes the metal casting ring without causing any damage to the artefacts inside.

The contents and the specifications of these products are subject to change without notice.